Testimonial
Training Manager
Luxury Hotel Brand
"Thank you so much for the precious opportunity of participating in your training program. We had so much to take away from your training and I am sure we all have started doing things differently the moment we stepped out of the room. This training will be something the participants will remember throughout their career and they are grateful for this chance at this point of their career. We deeply appreciate your support in our training."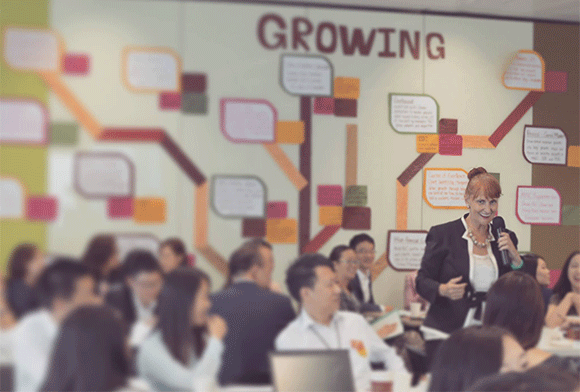 Training Manager
Food retailer in the United Kingdom
"We engaged Active Communication to help us deliver specific modules (Creativity & Innovation + Presenting with Impact) of an extensive leadership development programme for both mid & senior managers. MJ and her team were extremely responsive to the needs of our business when designing this training for us, and MJ herself provided outstanding delivery of the training.
This training has resulted in considerable, observable & sustainable improvements for nearly all managers who attended. Not only did participants consistently rate this as the most useful training they received as part of their leadership development programme, they have been able to put much of it to use and deliver positive changes for the business as a result."
Vice President Human Resources - Asia Pacific, Luxury Hotel Brand
"Dear MJ, to say that it was both an honour and a privilege to have you as an integral part of the 1HR conference would be an understatement.  Your messaging around "coaching on the go" resonated loudly with all I spoke to throughout the conference.  The time, energy, effort and passion with which you delivered your session is a testament to your professionalism.  You are inspiring to all those who come in contact with you.  I look forward to continuing our partnership in one form or another into the future."
Patent Attorney
Electronics & Electrical Service

'I could spend a lot of time saying how MJ's coaching was inspirational and allowed me to overcome challenges that have been daring me for a few years. But you would need to experience it! MJ personalized her coaching to fit my needs, personality and industry, giving enough space for ideas to come out and enough guidance to shape them. Her coaching changed how I approach my work, made me more efficient in my tasks and provided me with managerial and leadership tools.
The CEO of my company summarized it: "it was money well spent!" '
Chief Executive Officer
Children's charity
"Thank you so much for your brilliant contribution to the success of our retreat. I have never seen our professional staff so animated in all these years, and I can tell from the feedback I have received that they are truly appreciative of the time and energy you gave.  It was not just fun, but a valuable learning experience.
More than that, the workshop you put together matched our needs perfectly.  I thought the way you weaved in our current KPI's was both elegant and effective, and definitely got the different teams thinking out of their respective boxes!
It is up to us now to continue to build on the 'recognise, respect, connect' model you worked through, and I will be working with the team heads to make sure we don't lose the momentum you have generated."
 Founder & CEO
Non-profit animal organisation
"I wanted to thank you profusely for your help at your presentation skills seminar back in June. I had my presentation 2 weeks ago, and they gave me the 'honour' of closing the 3 day conference. I was terrified, but I had prepared my presentation well and had easy to read and follow notes thanks to your guidance, and even though I don;t think I would consider myself to have been able to think, I didn;t need to! The result was (according to all my fellow delegates) "wonderful". I was so delighted and surprised and relieved, and even though I'm sure I would still be nervous next time, it was wonderful to have been able to pull it off so well.
Thank you thank you thank you for having turned my nightmare into a success! I even saw myself on video afterwards and it wasn't too painful to watch!"
Jeweler and Gemologist
"My Presentation skills training and coaching with Megha was the best financial investment I have made as a small business owner.  I was preparing for my first big seminar and it was very technical subject. Through working with Megha, not only did I gain confidence in myself, my presentation was a huge success.  I was approached immediately afterwards by a Chamber of Commerce to repeat the seminar for their members.  I could not have done this without her and her calm and patient support.  I would highly recommend this kind of training to anyone - small business owners, those in management positions and even students at university.  To be able to come across credible, confident and succinct while delivering a message is so vital if you want to succeed in the business world. "
Training Solicitor
Solicitor firm

"MJ is excellent, very encouraging. If I had known how painless it was going to be – I would not have dreaded it so much."
Hotels and Resorts Manager
Luxury Hotel Brand
"I learned the difference between being a manager and being a leader, and how to become a good leader"