Executive Coaching
Our Approach - Ontological Coaching
Coaching and Development
Our method of coaching is grounded in the study of Ontological Coaching that leverages your 'Way of Being'. We are skilled coaches and facilitators of the profound learning that generates genuine transformation and more powerful and constructive ways of engaging with different aspects of life and work. Focusing on that Way of Being - the neuroscience response from learned patterns of behaviour – we can change deep-seated perceptions and attitudes. We support people to become more powerful observers, more self-aware, more capable of setting goals, and taking more effective action.
Way of Being and Coaching Conversations and Packages
Coaching in all three areas of language, emotions and body can generate profound learning, resulting in fundamental shifts, both in self-perception and perception of what is possible in an individual's personal and professional life.
Our coaches motivate and support the coachee to maximise their potential through personally designed coaching packages:
Individuals 1:1
Teams
Coaching Skills and Competencies
Manager as coach - training solutions
Assessment tools and deeper self-awareness
360 Degree Feedback
Benefits
To the Executive
Identify career-based strengths and developmental needs
Leverage existing strengths and improve performance
Create a strategy with an action plan and accountability to stay on track
Adopt and/or reinforce executive leadership competencies crucial to career success
Implement positive and sustainable behavioral changes
Enhance career planning and development with an action-oriented plan
To the Organisation
Executives learn coaching techniques that they can implement with their teams for improved relationships and productivity, as well as enhanced employee development
Positively affect organisational learning culture – leadership, learning and talent development
Reduce turnover and retain talent across the organisation
Enhance individual and organisational performance with clearly set metrics for coaching engagements
Improve staff morale with more committed employees, resulting in greater productivity
Employ coaching as a means of development for succession planning and resourcing needs
Create better client relationships and productivity
Balance Point - Maternity Transition Coaching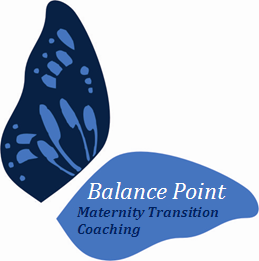 Successful transition through maternity and returning to work is a key challenge in today's talent management. There is something in it for everyone - The expectant Mum or Dad, the Employer, immediate Boss, The company HR professionals, as there is a key stake in the safe handling, return and retention of knowledge, expertise and commitment for all parties.  There are so many individual moving parts in these cases it's a challenge to everyone concerned.
This is where we come in! Our Balance Point Solution offers learning and support for managing transitions from maternity to the world of work. We offer a number of solutions that support the individuals, the Organizations and the stakeholders involved in the maternity transition.
Maternity Transition Coaching provides emotional and practical support to employees at a 'balance-point' in their career and life. We see the opportunities for supporting individuals in combining careers with flourishing home lives, and partnering through the parenting journey. The result – retaining key talent, a robust female talent pipeline, life balance that leads to more engaged employees, an image of being a truly inclusive and caring organization.
Maternity Transition Program Offerings:
'Open' public courses and small group seminars  - Ad hoc
'In-house' Corporate Balance Point Workshops. As a set of 3 workshops for those in Transition (duration is either a 1/2 day or 2 hour) Targeting - Pre-Maternity Planning Session, Preparing to Return to Work Session and then the 'First 100 days' plan for  Retaining the Talent
Maternity Transition Coaching Packages 1:1 Executive Coaching Individuals  (6 session coaching packages over 6months- total 9 hours).
Executive Coaching for the Manager and Team impacted by the Maternity Leave – Adhoc Coaching Sessions
UK based Webinar for Expectant Dads
Contact us now for more information and a bespoke proposal targeting your needs
Phone: +852 2525 7267
Email: info@activecommunication.net